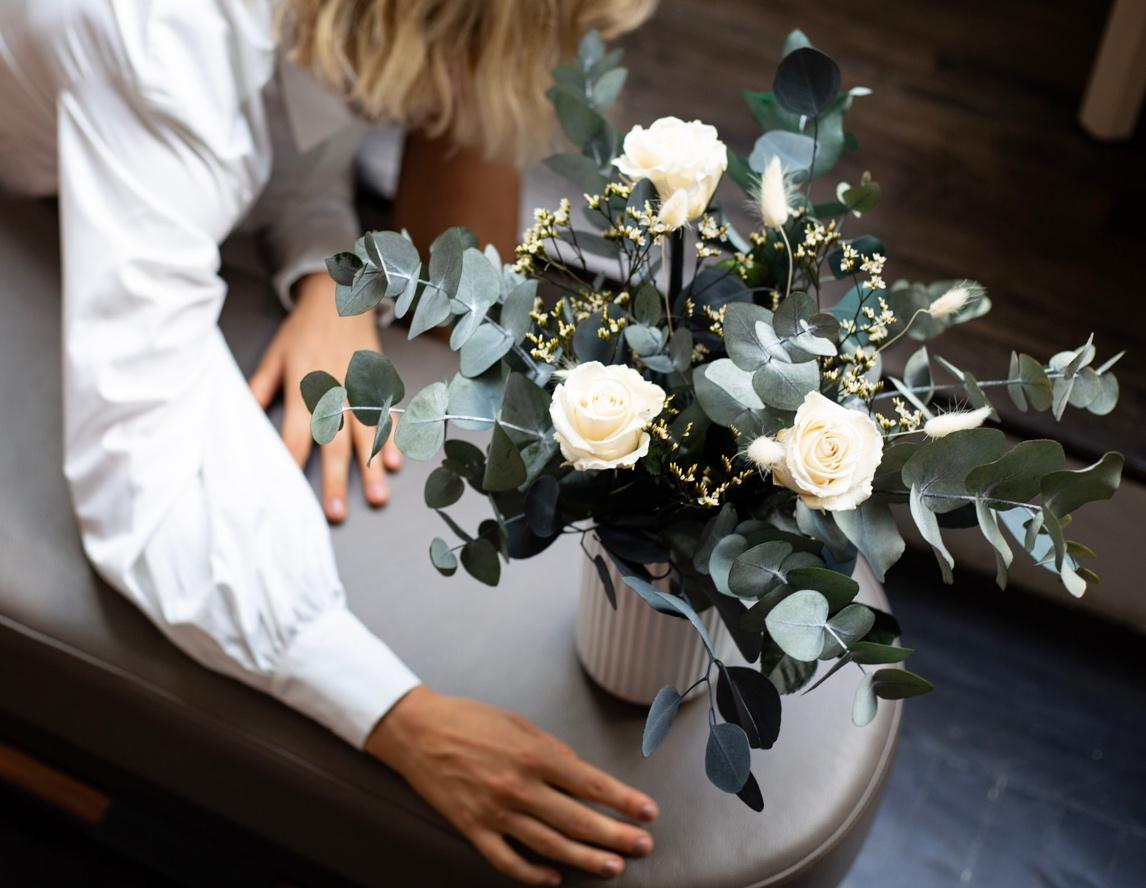 What Are Preserved Flowers?
Maybe you saw our beautiful floral arrangements at the LEAF flower show earlier this year or you read about us in a recent Architectural Digest article. No matter how you came across Nordblooms, you may be asking yourself, "What are Nordblooms preserved flowers?". We are here to shed some light on the latest trend in floral bio-tech and explain why preserved flowers are a modern and more sustainable alternative to fresh cut flowers.
PRESERVED FLOWERS ARE:
100% REAL FLOWERS
Our blooms have been harvested at their peak and bio-preserved to retain their fresh cut look and feel for longer. The delicate process involves treating the flowers with a natural solution containing glycerin and food dyes to help the plants maintain their cell structure and freshness. 
LONG LASTING
Unlike fresh cut flowers that last for about a week, Nordblooms allows you to enjoy premium flowers that bloom beautifully all year long. 
ECONOMICAL
A more affordable alternative to fresh cut flowers. There is something sad about seeing the bouquet you purchased and the money you spent literally wilt away. For the cost of only a coffee per week, enjoy year-round beauty in your home. 
MAINTENANCE FREE
Live your best life with our low commitment, low maintenance flowers that look after themselves, just like you. Nordblooms are just lush vibrant blooms that make your place look in style at all times and do not require any watering, trimming, cutting, or picking up fallen petals. 
SUSTAINABLE
Stunning as they are sustainable, our long-lasting arrangements contribute to less waste, lower carbon emissions, and reduced water usage and unlike artificial flowers; our blooms are 100% real and biodegradable. 
THE PERFECT HOME ACCESSORY
Like a sculpture or a carefully-selected piece of interiors, our bouquets act as a piece of art to curate, complement, and complete the environment you place them in. Elevating, rather than simply filling space, they make the perfect gift or purchase for anyone with considered style and taste. For added beauty in your home, check out Bergen, a classic stunner with soft crème preserved roses or Oslo for a touch of verdant greenery.
Nordblooms is a premium online florist that provides flower delivery straight to your home. Scandinavian inspired and New York made, each bouquet is shipped directly to our customers through our e-commerce website. Featuring our distinctive branding and signature vases, we offer a refined range of interior design objects and floral arrangements from eternity roses to preserved hydrangeas and dried flowers. Whether you are looking for a gift for yourself (because, why not), someone special or a gift for a wedding, housewarming, anniversary or birthday we have got you covered! 
For a one-of-a-kind experience, order your blooms today at nordblooms.com